A Journey of Baking Deliciousness that Nourishes Mind, Body and Spirit!
1999: Started serving classic western style cakes and dessert, with the 1st double-layer cheesecake in town – the Secret-O Cheese! With Stores in Central, Causeway Bay and Happy Valley
2002: Where our uniqueness began – Our 1st bespoke cake design
2004: Our Production factory in Quarry Bay
2011: First free-form bakery to cater various health and dietary needs.
2012: First 'Can't believe its Gluten-free' Carrot Cupcake
2014: First Gluten-Free Vegan Chocolate Cupcake First Gluten-Free Vegan Cookie First Paleo Fudge Brownies
2015: Distribute our Packaged baked goods to retail partners support wholesome healthy treats 2017: First Superfood-infused Gluten-Free Vegan cake and tarts: Turmeric ginger lime cake & lemon coconut tart
2020: Focus on our online platform to serve our local and international customers 24/7!
2021: Sweet Secrets' bestselling Cardamon Chocolate Ganache Tart won the Gold Award for Best Plant-based Dessert for the Wellness & Lifestyle Award 2021 by Liv Media!
Our Mission
We aim to make a difference in people's lives by bringing forth fun, joy and happiness.
We bring people together, irregardless of their diet situations, so that everyone is brought together at joyous celebrations.
We strive for improvement and we aspire to be the best in what we do.
We are a sustainable enterprise so that we may continue to grow and serve.
Our Ingredients
We are known for using high quality and natural ingredients –Belgium dark chocolate, pure cream, organic Madagascar vanilla extract, fresh eggs, real butter, etc.
We create our free-from collection with healthy ingredients like raw organic, non-refined sugar (coconut sugar), healthy fat (cold-pressed coconut oil) and other organic ingredients, upholds the highest standard of deliciousness while positively contributing to the emotional and physical health of our community. 
We love to see how our cakes bring smiles to people's faces and this is why we do what we do. What a wonderful tradition it is to include something sweet, healthy and delicious to go with the special moments in our lives such as birthdays, anniversaries, weddings, graduations and baby arrivals.
Please check our glossary for the benefits of the ingredients we use.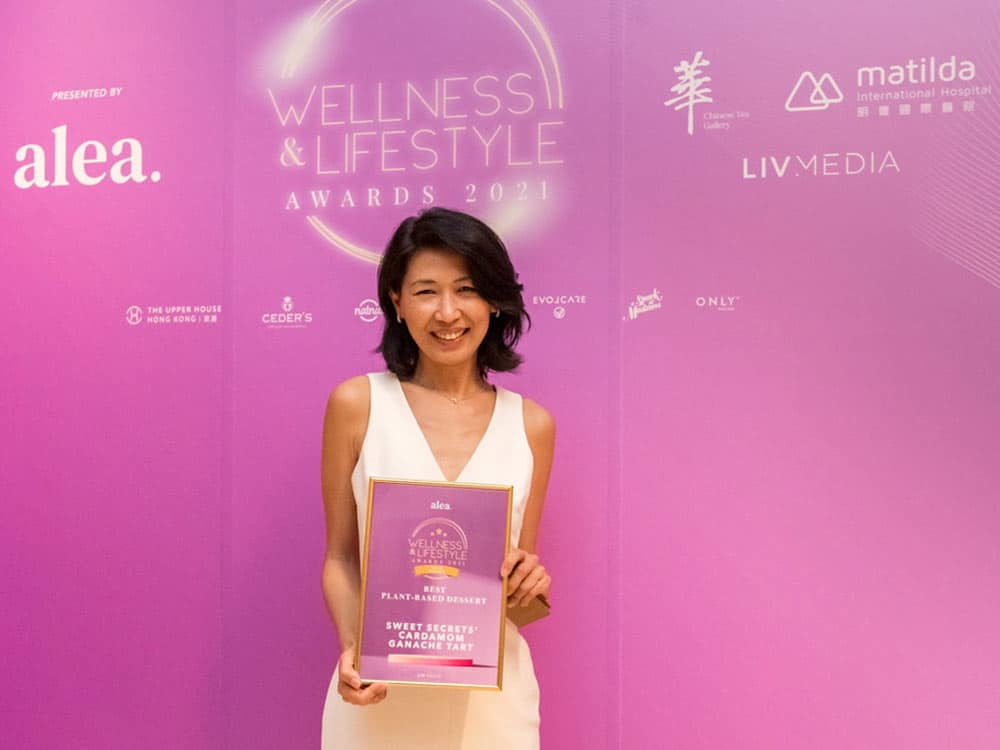 Sarah Lee
Sweet Secrets Founder and The Cake Lady
Sarah Lee started Sweet Secrets in 1999. She has a natural flair for taste and creativity to develop all the recipes that Sweet Secrets now offers. Many cakes were born out of a personal desire to "eat clean" and to make healthier food choices to nourish the mind, body and spirit, without having to sacrifice what she loves eating the most – dessert!
Sarah is awarded Hong Kong's Woman Leaders in 2018 for her impact in the food and wellness industry over the years. She is also a board member of 'The Women Entrepreneurs Network' which inspires and empowers other women.
Sarah feels so blessed to be in a business that fulfills her passion and aligns with her healthy lifestyle. Sarah's fondest childhood memories are of spending magical moments in the kitchen with her mother baking, cooking and creating delicious treats for the family.
Raymond Fong
Pastry Chef
Raymond, Pastry Chef of Magic Hands, has been with Sweet Secrets since the early years. He has developed all the cakes along with Sarah and our talented team of bakers and has designed countless jaw-dropping and delicious art cakes for our very happy customers.
Our customers are always overjoyed to find us, calling 'The Little Gem'!! Our creations have been featured and endorsed by various media as the go-to bakery for healthy, specialty and bespoke cakes.
As Seen on:
TVB, SCMP, TimeOut, HK Magazine, Ecozine, Foodie, HK01, The List, Playtimes, Inside DB, Young Post, Sassy Mama and many other publications.